Home is where most of us are spending a lot more time these days, which may give some an itch to change things up. However, sometimes our budgets are not quite as big as our wishes for a change. Don't worry, there are still plenty of ways you can update your home without breaking the bank. Whether it's improving the appearance or functionality of a space, there is a good amount you can do on a budget that will make a difference.
Paint
One of the cheapest ways to transform a room is to use paint. Think about painting a few walls, cabinets, or even your baseboards to give your space a whole new look. Something as simple as painting a room in your home can give you the change you've been craving. Painting your cabinets will cost you much less than what it would cost to replace them (cabinets can get pretty pricey) and they can transform your space completely. Baseboards take a lot of abuse, and over time they get worn. If your baseboards are still in reasonable condition, sand them down, and give them new life with a new coat of paint. You can even use paint to add curb appeal by painting your front door. Many paint stores offer deals every so often, so make sure to keep an eye out for these if you want to save even more on the paint.

Update drawer pulls and handles
Add new hardware to your cabinetry (such as knobs, pulls and doors knobs), to give a room a different vibe. Replacing your old cabinet pulls and knobs is a small upgrade that can come in under $100. Want to get even more budget friendly? Spray paint or Rub'n Buff your current knobs for even less.
Change up a closet
Change things up by reworking your closet space into lockers or a work space. An easy way to do this is by removing the closet doors (we recommend saving them just in case you want to switch back in the future). This space can be turned into mini mudroom lockers or even an office space. If you are using the space for a mudroom, add hooks, shelves and bench/chair. If you are working from home and need an office space more than the storage, turn it into a mini office or school space for the kids.
Don't want to take off the doors but like the idea of an update? Try replacing the rod in your coat closet with hanging hooks and painting the walls.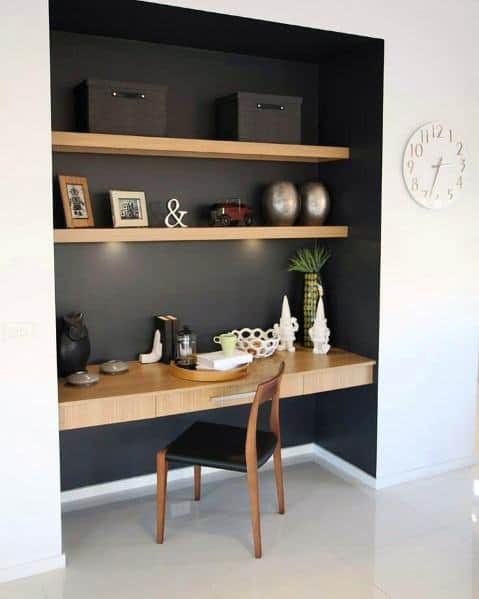 Re-grout
Tiled surfaces such as flooring or showers often develop missing or stained grout. If cleaning just isn't doing it anymore, re-grouting the surface can make it look brand new again.
Lighting update
Replace your light fixtures for a huge impact. Amazon has some great light fixtures at a reasonable cost, or check out your local hardware store. Swapping a fixture is something that can be done by the homeowner (learn how here), or it generally takes an electrician less than an hour.
Don't want to go as far as switching a fixture? Something as simple as installing a light bar or individual puck lights under your kitchen cabinets for some nighttime lighting can make a difference to how you feel about your space.
Change up your throw pillows
Seems so simple and small, yet throw pillows are an easy, inexpensive way to transform the look of a room. You can change your throw pillows with the seasons or find one or two new ones to change out in your space. Throw pillows are not permanent so keep in mind that you can always move them from room to room if you have similar color palette throughout your home. When shopping for pillows on a budget, there are always individual pillow covers you can put over your current pillows. Most of the time pillow covers are cheaper than buying a whole new pillow. You can find covers for less than $10 apiece on Amazon.
Shop your own home
Look around and reorganize. Sometimes, all a room needs is a new layout or a couple new pieces here and there. Changing a space up by moving a piece of décor or switching a chair to the other side of the room can make the space feel new (and the best part… it's free.)