Connect With Us
First Bank Financial Centre Delivers Holiday Cheer to Oconomowoc Individuals and Nonprofits
Date Posted: December 21, 2016
This December, as part of its "Holi-Days of Giving" program, the Oconomowoc branches of First Bank Financial Centre (FBFC) delivered much-needed holiday cheer to three individuals and three nonprofits.
During surprise celebrations at FBFC's three Oconomowoc locations, Marco Gondek, Emily Enockson, and the Tinus family each received gifts.  The Three Pillars Senior Living Communities, Rainbow Hospice, and Humane Animal Welfare Society of Waukesha County, Inc. (HAWS), were all presented with $500 checks.
The Three Pillars Senior Living Communities takes pride in meeting the social, physical, and spiritual needs of older adults through high-quality care and services. This group is putting the $500 from FBFC towards crafting gifts to thank organizations for their service.  They provide these gifts to mail carriers, teachers, EMS, dog rescues, shelters, food pantries, vets, libraries and more.
The Humane Animal Welfare Society of Waukesha County (HAWS) is a non-profit organization that leads the community in animal welfare and assures sanctuary for animals in need. They assist over 6,000 animals each year and welcome more than 31,000 human visitors into their shelter annually.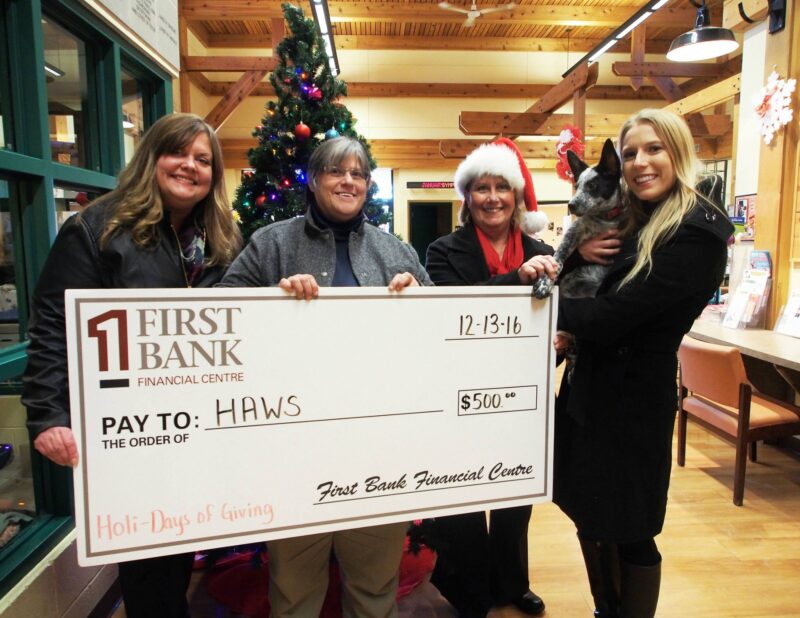 Rainbow Hospice is a non-profit that provides a full spectrum of physical, emotional, social, and spiritual care services to terminally ill patients and their families.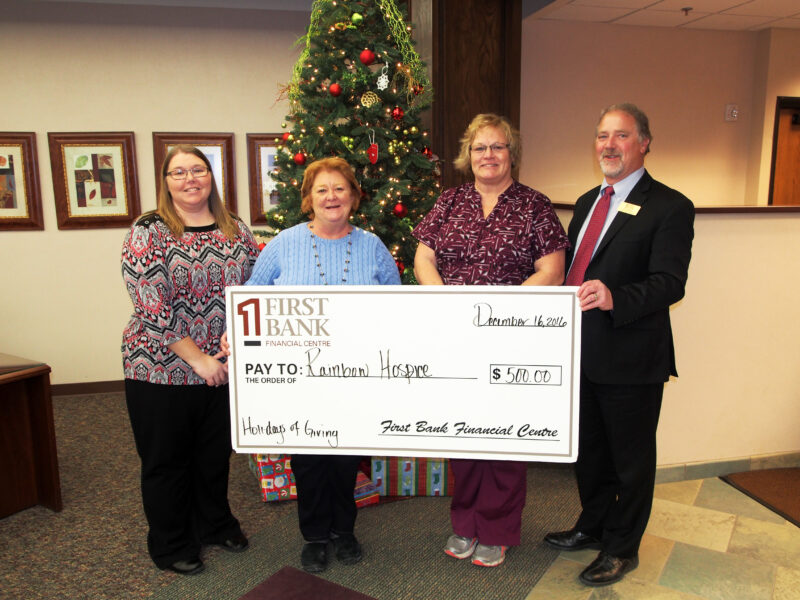 "We're thankful that our "Holi-Days of Giving" program can reach out to several deserving individuals and nonprofits that continually work to serve our community," says Jon Martin, downtown Oconomowoc FBFC Branch Manager.
Jason and Krysta Tinus recently gave birth to their new daughter Maise on October 25th, 2016. Maise has been diagnosed with a heart condition called Tetrology of Fallot and Q 22 deletion syndrome. Maise is in need of open heart surgery within the next 4-6 weeks in addition to many other surgeries and future doctor appointments. FBFC was honored to surprise the Tinus family with $500 to help cover some of the costs of the upcoming medical procedures.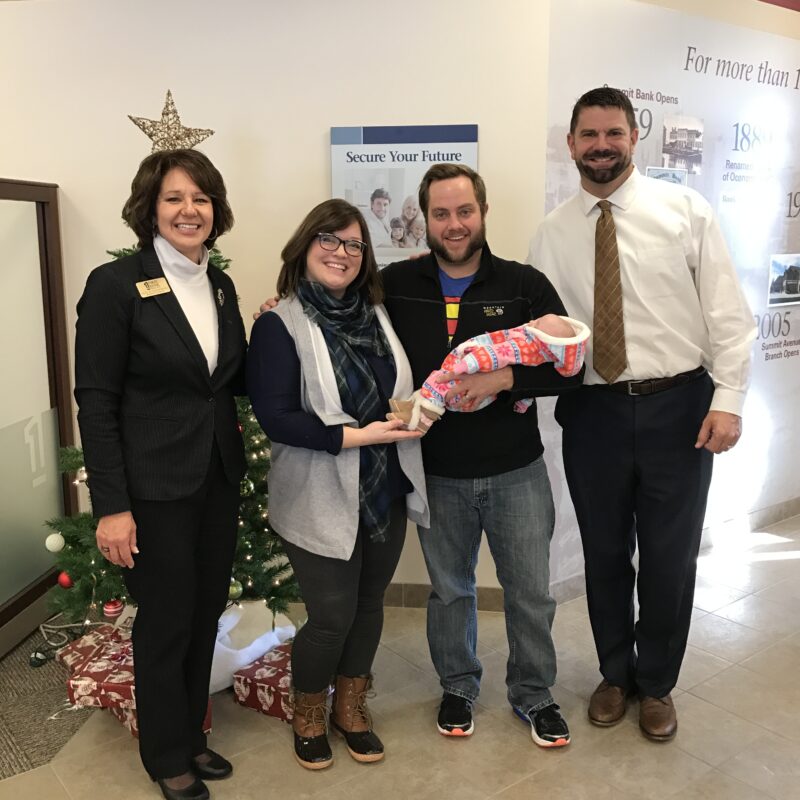 Marco Gondek is a 6th grader and celebrated his 12th birthday on Dec 17th. On top of his father's passing last Thanksgiving, this last July his 3 year old brother was diagnosed with liver cancer and is waiting for a transplant. His mother nominated him due to all the help, support and strength he has given to her and his brother this past year. FBFC surprised Marco with a PS4, 2 controllers, and games at the downtown Oconomowoc branch.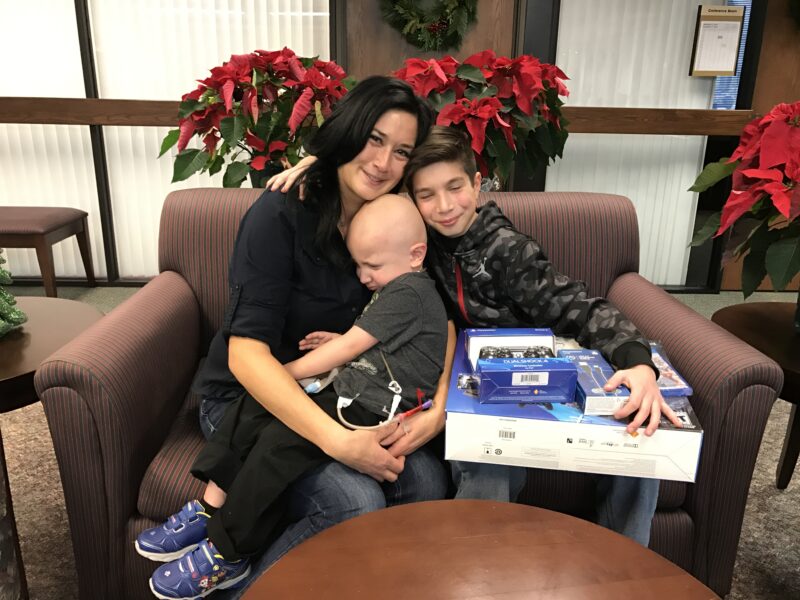 Emily Enockson continually serves the special needs community. She coordinates free events for the Pabst Farms Y Inclusion program, serves thousands of special families at Zachariah's Acres, and is a primary care giver for her adult sister with special needs. Emily stopped in for a surprise at the FBFC Brown Street branch where she received a $500 Spargo Spa gift card.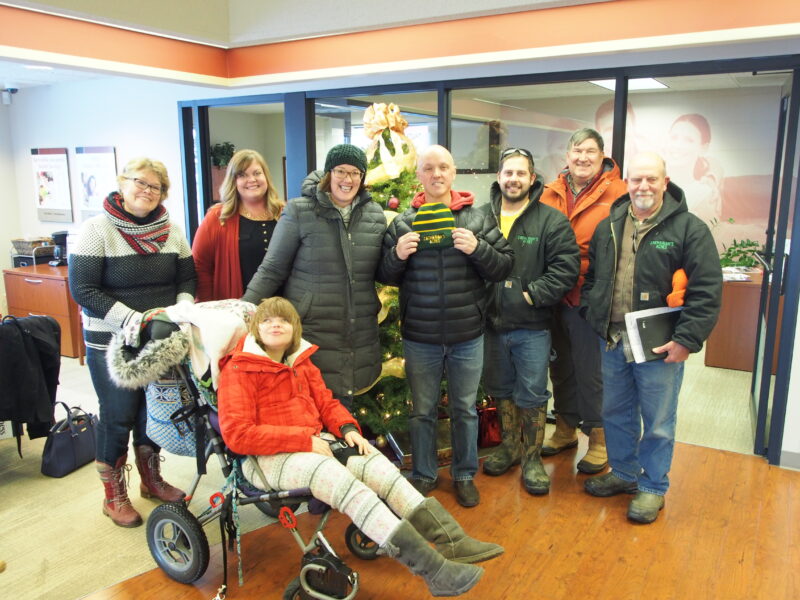 During the first three weeks of December, FBFC's 13 suburban branches delivered $500 checks to 13 nonprofits and gifts, valued up to $500, to 13 families or individuals as part of its "Holi-Days of Giving" program.