Business Debit Cards
With a Bank Five Nine MasterCard® Business EMV Debit Card there's no need to carry cash or checks. Purchases are simply deducted from your checking account. And when you do need cash, the card doubles as an ATM card.
Fast, convenient way to pay for purchases instead of using cash or checks
EMV chip technology for improved global usability and added security
Purchases are deducted from your checking account and appear on your monthly statement for easy tracking
MasterCard zero liability protects you from unauthorized use
Increased security for online purchases through SecureCode
Identity Theft Resolution services
Purchase Assurance
MasterCard VAT Reclaim service
MasterRental Insurance
MasterCard Priceless® Cities
MasterCoverage
MasterAssistTM Travel Assistance services
MasterCard Global ServiceTM
MasterCard Airport ConciergeTM
Guide to Benefits Business Debit MasterCard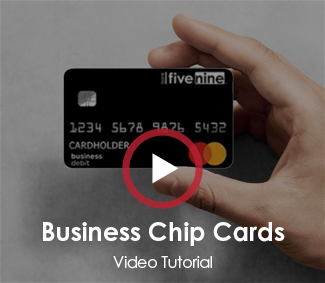 To apply for a debit card, please Contact A Business Banker
For questions or concerns regarding your current Bank Five Nine business debit card, contact the Online Banking team at (262) 569-9900.
To report fraudulent activity on your business debit card:
Contact your local Bank Five Nine branch during regular business hours
After business hours,  please call (800) 554-8969
Outside the United States, please call collect (614) 564-5101
If you will be traveling out of the state or country with your business debit card, please contact Bank Five Nine's Online Banking department at (262) 569-9900 during regular business hours prior to your departure to let us know.