Access to your checking account with the swipe of a card? Yes, please! With a Bank Five Nine Mastercard® EMV debit card, there's no need to carry cash or checks. Swipe your card and purchases are simply deducted from your checking account. When you need cash, the card doubles as an ATM card!
Get Your Bank Five Nine Debit Card Immediately
Instant Issue makes our debit cards even better! We have the ability to print your EMV debit card in our branches while you wait. It only takes a couple minutes and you're out the door. Whether you're a new customer opening an account, or an existing customer with a lost or stolen card, we can help.
More secure than writing a check
EMV chip technology for improved global usability and added security
Manage card security in our Bank Five Nine Mobile app, or by using CardValet
Mastercard Zero Liability protects you from unauthorized use
Add your Bank Five Nine debit card to Apple Pay, Samsung Pay & Google Pay to make easy and secure purchases with your mobile phone
Identity Theft Resolution services
Mastercard Global Service™
Mastercard Airport Concierge™
Accepted at millions of locations worldwide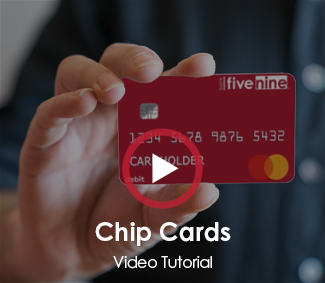 To apply for a debit card, please Contact A Personal Banker,
For questions or concerns regarding your current Bank Five Nine debit card, contact Operations Support, call (888) 569-9909 or chat with us during regular business hours.
To activate or update the PIN on your debit card, call (800) 992-3808.
To report fraudulent activity on your debit card:
Contact your local Bank Five Nine branch, or

chat with us

during regular business hours
After business hours, please call (800) 472-3272
Outside the United States, please call collect (614) 564-5101
If you will be traveling out of the state or country with your debit card, please contact Operations Support, call (888) 569-9909, or chat with us during regular business hours to let us know.